[Note: If you visit one of these site, use your back button to return to this page.]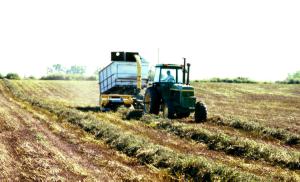 Chopping Peppermint for Distillation
Integrated Plant Protection Center (IPPC). Information from hundreds of weather sites in the Northwest, degree-day calculations, and links to other IPM related sites. IPM Weather Data and Degree-Days

Insect Pest Alerts. This site contains the most recent pest alerts in mint and other crops grown in the Treasure Valley in eastern Oregon and Idaho.
MIRC Virtual Mint Library. Research and extension reports published by individuals who conduct research and extended education in mint. This site requires that you have a password to enter.
Central Oregon Agricultural Research Center in Madras. Research related to mint production in Central Oregon.
Department of Crop and Soil Science, OSU. Information about the Weed Science program and other links to identification of weeds.
Department of Botany and Plant Pathology, OSU. The online PNW Disease Control Handbook describing Plant Diseases and Nematodes that affect mint.
Oregon State University Plant Clinic is a resource for identification of plant problems caused by insects, diseases, and non-pathogenic conditions.

Link to Nematode Homepage. This site was developed by Kathy Merryfield and Ben Muir and contains more detailed information on identification and biology of nematodes found on a variety of crops.

Link to Surecrop Homepage. This site contains information about the production of crops in the Willamette Valley. The site has numerous excellent photos of pests associated with the different crops grown in the Valley.

Department of Entomology, OSU. Information about other IPM projects and links to other entomology related sites. Also, the online PNW Insect Control Handbook for Control of Insects and Mites on Peppermint.

Department of Entomology, WSU. Information about other IPM projects, links to Research Centers in Washington, and other IPM related sites. Irrigated Research and Extension Center in Prosser.

Department of Entomology, Univ. Idaho. Information about the Department of Plant, Soil, and Entomological Sciences and current Research Projects.

Mint Production in Montana. Information is provided about the production of peppermint in Montana, including agronomic practices and pest management.

OSU Extension and Experiment Communications. This site contains listings of extension and experiment station publications related to agriculture.

EPA Pesticide Product Information System (PPIS). Information about pesticide products registered for use in Oregon. PPIS combines information provided by the Oregon Department of Agriculture and the EPA.

ODA Pesticides compiled by Kelly Registration Systems, Inc. Allows you to search the Oregon Department of Agriculture (ODA) databases for pesticides registered in Oregon for 2000.